Korg Pa4X - Pa700 - Pa1000 - Adrian 2020 Full Balkan - World Super Live Loops SET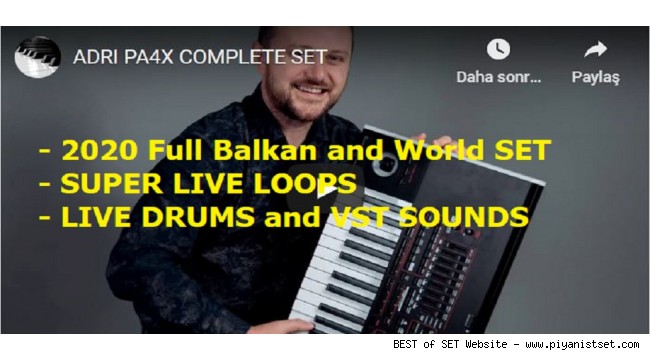 Korg Pa4X - Pa700 - Pa1000 - Adrian 2020 Full Balkan - World Super Live Loops SET
---
ADRI SET eshte set i kompletuar per te gjitha zhanret e muzikes: popullore,zbavitese,orientale etj.
Seti eshte per Pa4x dhe permban 666 mb(compressed) i punuar detajisht dhe profesional.
Call Number: +38344118561
---
ADRI SET is a completed set for all gengres of music:folk,pop,oriental etc.
The set is for Pa4x and contains 666 mb(compressed) worked out in detail and very professional.
Call Number: +38344118561
Note from Adrian:
After so many requests!
My personal set worked hard and professionally, only for Korg Pa4x In the set there are 2 to 1 in one,you have the set with Live Styles(loops) and other Styles with Dk. In the set, in addition to the many rStyles there are hundreds of Sounds,you can hear most of them are sampled from Juzi,Kronos,VST etc. Only 90% of the material is in Demonstration. The set is sold only with the confirmation with 'YES' in the comment. The set is 666mb Compressed, you have space to add your material. By making the payment each in Western Union and after sending me the payment invoice and email the set will go immediately, to each. The price is: € 250 and each person will pay € 250 per set. Thank you Respect!
Bu haber 4478 defa okunmuştur.